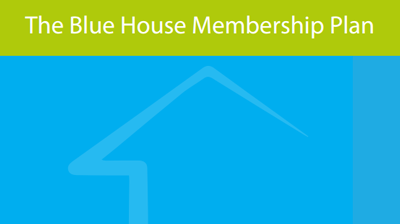 Click image to view our brochure
The Blue House Membership Plans
Research shows that preventative dentistry delivered on a regular basis greatly reduces the risk of dental disease and provides a platform for a lifetime of improved oral health. That's why we recommend The Blue House Membership Plan, which should not only reduce the need for future treatment but the Supplementary Dental Injury and Emergency policy and 24 hour helpline also gives you extra peace of mind - our way of rewarding loyal patients.
Member Benefits
For only £19.95 per month your Plan covers:
Two dental health examinations per year
Two routine hygiene appointments per year including scale and polish and periodontal advice
All clinically required small x-rays
Routine oral cancer screening
10% discount on treatments – excludes dental implants and orthodontics
Diet and oral hygiene advice
Emergency appointments during working hours – one per year (any treatment required will be charged at members rate)
Membership card with 24 hour helpline numbers for dental emergencies at home or abroad
Worldwide Supplementary Dental Injury and Emergency Insurance – for dental injuries whilst at home or abroad
Easy Budgeting
Our Plan not only gives you the opportunity to spread the cost of your preventative dental care with monthly payments, it saves you money compared to paying for your dental treatment on a 'pay as you go' basis.
How to join
Joining is very simple. All you have to do is complete a registration form and Direct Debit mandate. In addition to your first monthly payment, an initial registration fee of £10 per person will be charged and included in your first Direct Debit payment.
Please note, the registration is for a minimum of 12 months so if you cancel within this time any discounts will be charged in full. If you choose to leave the plan for any reason you do so simply by giving one month's notice.
What happens in an emergency?
You will have access to a 24 hour, 365 day worldwide dental emergency helpline. An English-speaking dentist will be available to assist you.
Any questions?
If you have any questions about our plan, please contact our reception team who will be happy to provide further information and guidance.